We are thrilled to announce the winners of our MEMBERSHIP RAFFLE!
The following members receive one full year of membership to the Eugene Family YMCA: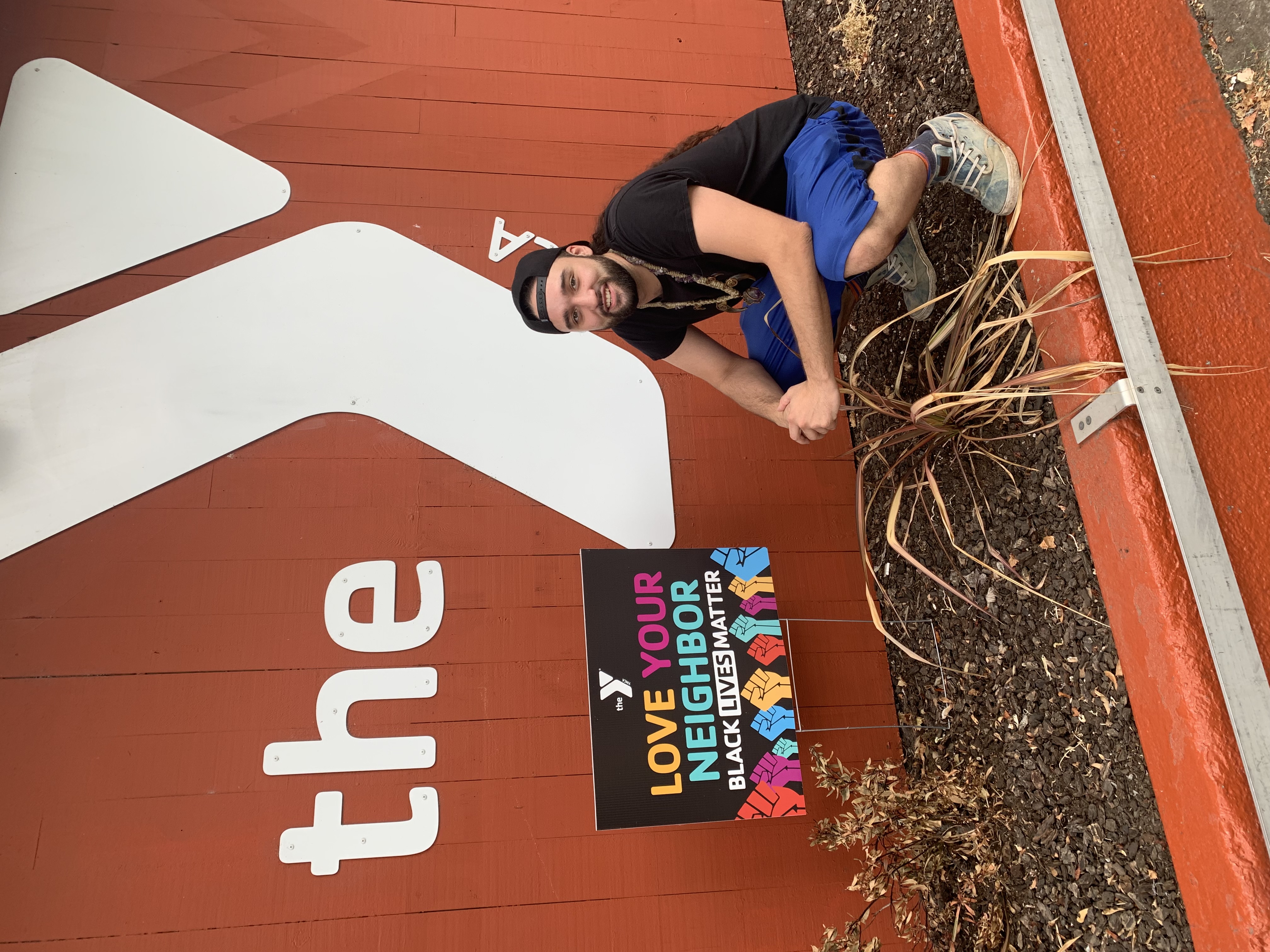 Sharon, 80, has been a member for the past 20 years and currently enjoys low-impact aerobics classes.
Monet, 26, first joined the Y 5 years ago and enjoys yoga classes.
Tony, 51, has been a member for nearly 12 years and likes to weight lift at the Y.
Sarah, 37, and her husband Matt and 2 children have been members for almost 3 years. Sarah likes PiYo, flow yoga, and trying new classes!
Megan, 28, has two children in the Y's child care programs and is excited to take her boys to the Y pool! She said, "I never win anything and this is so fun because it is a healthy thing to win and a healthy encouragement, plus a great family activity!"
The GRAND PRIZE—a LIFETIME MEMBERSHIP to the Eugene Family YMCA—goes to Jericho, 25, (pictured) who has been a part of the Y for the past 10 years and played Y basketball as a high schooler. As a young adult, he has been a referee and a volunteer basketball coach for a few years—elementary-age kids and up! Jericho enjoys playing basketball in the Y gym, doing yoga and doing balance training with BOSU balls. We are thrilled to know that he will have a membership at the Y for the rest of his life!
"Whether it's playing, coaching, or refereeing, I just love being a part of the basketball community here in Eugene," he says. "The Y has always made me feel accepted. Other than basketball, I appreciate that the Y has a weight room, pool, and a healthy supply of friends!"
---
Oregon Fitness Adventurers Log Hundreds of Miles Across the State
Nearly 40 brave adventurers took on one or more 6-month challenges in March 2021:
SWIM the length of the Coast Fork Willamette River: 40 miles

WALK/HIKE from Eugene to Crater Lake: 127 miles

RUN the length of the Oregon Coast Highway: 363 miles

BIKE the length of the Oregon Timber Trail: 670 miles

REACH nirvana by completing 52 yoga sessions
"I loved this challenge," said Raina Bondurant, who hiked 127.74 miles. "I'm always saying I wish I made the time to hike more and this challenge made me do it. It made for a fun & adventurous summer!"
Some of the places that Raina explored include: hiking from Heceta Head Lighthouse to Hobbit Beach for her 20-year anniversary; Alsea and Green Peak Falls; and Mount Pisgah. She finished her challenge on Sept. 3 with a hike to The Knoll and God's Thumb in Lincoln City.
Mary Miller, a Y member for almost 9 years, reached nirvana with 52 yoga sessions and also walked 127 miles—the equivalent of hiking from Eugene to Crater Lake. She has more miles to go to complete the Oregon Timber Trail by bike, but she plans to get there over the fall!
"Coming out of the closures for the pandemic, I needed some motivation to get moving," Mary says. "I signed up for the yoga, hiking and biking challenges. I love yoga and I love coming to the Y so I reached nirvana! After the halfway point, I set a goal of 1-2 miles a day so that I could reach the 127-mile hiking challenge. I did it!"
---
Share Your Vaccine Story
Your Y knows hearing from familiar people can be encouraging to those who are hesitant to get vaccinated. We are following the lead of the Oregon Health Authority and sharing the stories of those who have been vaccinated. Please consider sharing your story for the Y's social media campaign: email beth@eugeneymca.org.