The new Y opens December 18, 2023
COMING SOON: A NEW Y FOR ALL
The new Y is thoughtfully designed to allow the Y to significantly increase the impact of its youth, health and wellness programs in the decades to come, as well as eliminate inefficient or unusable spaces. Scroll down to see what amenities you can expect in our new flagship facility, opening December 2023!
---
Facility Hours
December hours (beginning December 18):
Monday-Sunday: 7 a.m. to 7 p.m.
Closed: Christmas Eve, Christmas Day, New Year's Eve, New Year's Day
Regular hours (beginning January 2):
Monday - Friday: 5:30 a.m. to 9 p.m.
Saturday - Sunday: 7 a.m. to 7 p.m.
---
Ribbon-Cutting Ceremony & Open House:
December 16, 2023, 10 a.m. to 3 p.m.
Opening Day:
December 18, 2023, 7 a.m. to 7 p.m.
Address:
600 E. 24th Ave. Eugene, OR 97405
There's something for everyone at the new Y! Click below for a list of new Y programs broken down by age group.
---
DESIGNED FOR YOU AND YOUR FAMILY
---
PeaceHealth Wellness Center
PeaceHealth and the Y developed an innovative partnership to more robustly address health concerns in our community. In honor of the partnership, the Health & Wellness Center is named after PeaceHealth.
The PeaceHealth Wellness Center will have something for everyone: fitness enthusiasts, those recovering from injury or preventing disease, and people starting their health and fitness journeys.
Features:
All of the equipment will be new. Note: The old cardio equipment is leased and will be returned, and the old strength equipment and accessories will be sold.
Members ages 8-12 can use the wellness center with close adult supervision. Members ages 12-16 can access vaious equipment after completing Teen Training or our Teen Strength Program. Members over the age of 16 can use all equipment in the wellness center.

7 squat racks and 3 platforms

1 hack squat and a full suite of plate loaded equipment

25 ft. torque rigging including a torque tank and 2 heavy bags

Circuit and cardio equipment accessible by wheelchair

Cardio equipment will have digital displays for those who want access to entertainment while they workout.

Traditional cardio machines with the addition of: Jacobs Ladder, Versa Climber, NuStep total body, NuStep upper body ergometer, Aviron rowers, Precor Step Climbers, Endless rope, slat treadmills, HIIT treadmills, assault bikes and Ski Ergometer.

Recovery equipment, such as two HydroMassagers and two CryoLoungers from WellSpace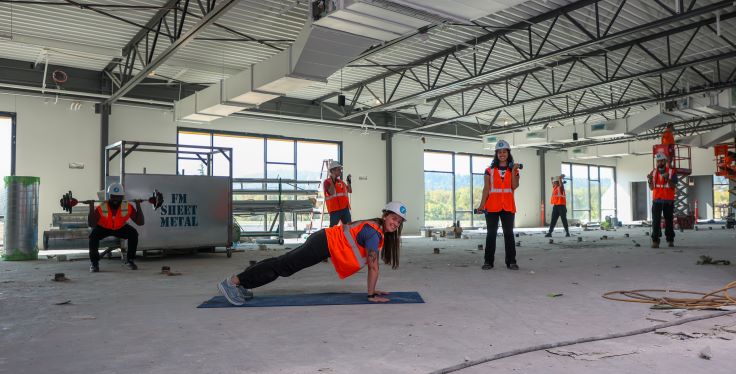 Programs:
Small group trainings will use part of the wellness floor

A Teen Strength Program after school

Innovative programs developed in partnership with medical experts from PeaceHealth!
---
Aquatics Center
The Aquatics Center serves to build confidence in the water, offer fitness opportunities for all ages, develop future aquatic leaders, and provide a safe space for individuals of all ages to play and develop water skills.
Features:
Lap pool: 84-degree, 3-feet to 7.5-feet deep, 6-lane, 25-yard length pool for lap swim, swim team practices, recreational swim, swim lessons and aqua aerobics classes.
Small pool: 88-degree, 3-feet to 5-feet deep pool that provides the ideal environment for water rehabilitation, preventative fitness with aqua aerobics and swim lessons for young children.
Hot tub: 102-degree whirlpool for people to relax and relieve stress.
Dry co-ed sauna: The dry sauna is located on the pool deck and can offer relief in the rainy climate by improving members' moods and easing joints. The new Y will not have a steam room.
Spray pad: Features a beach entrance and multiple dynamic water features for toddlers' safe water introduction and exploration.
Notable facts: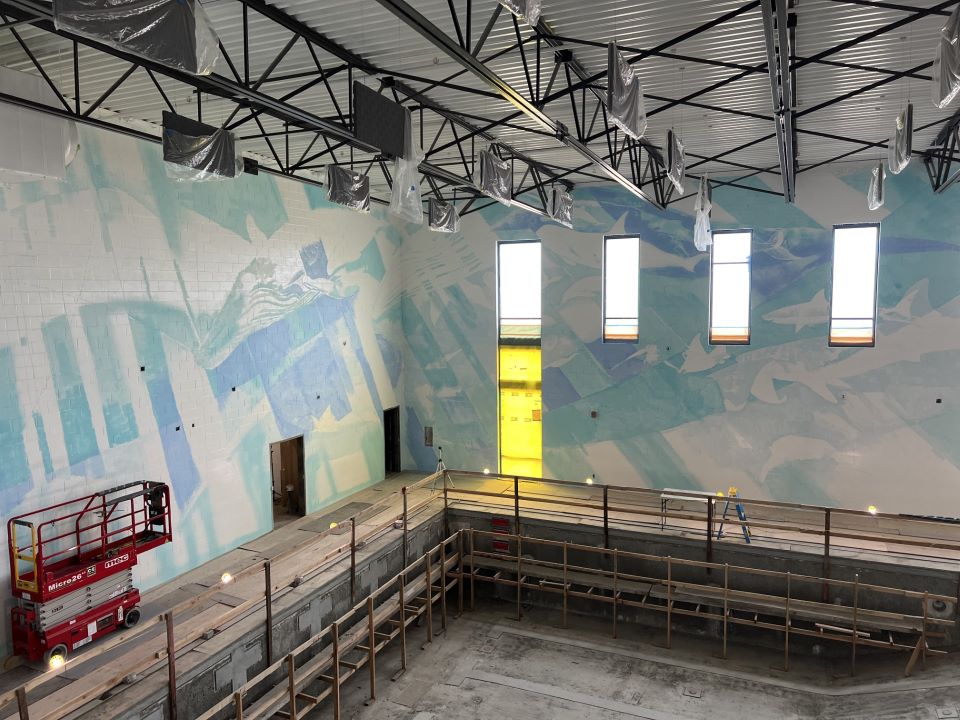 There are 2 showers on the pool deck

2 aquatic chairlifts ensure the Lap Pool and Small Pool are accessible

Members can use hooks and limited cubby spaces for belongings
Mural:
Esteban Camacho Steffensen is painting an underwater scene on 3 walls in the new Y's Aquatics Center. He is the same muralist that, as a junior at South Eugene High School in 2005, painted the mural along our current Y's Big Pool.
---
Community Room
The Community Room supports the Y's desire to offer spacious and inviting gathering spaces to combat the epidemic of social isolation. The comfy and flexible seating make it a perfect place for programming that connects friends to play games, enjoy potlucks or catch up before a workout. We can't wait to see the magic of our Y community come alive here!
---
Teaching Kitchen
The Teaching Kitchen brings the community together in an open setting to offer opportunities for individuals and families to gather and learn how to make nourishing, healthy and affordable meals—ultimately improving health and wellness.
---
Gymnasium (Soreng-Dobson Sports Center)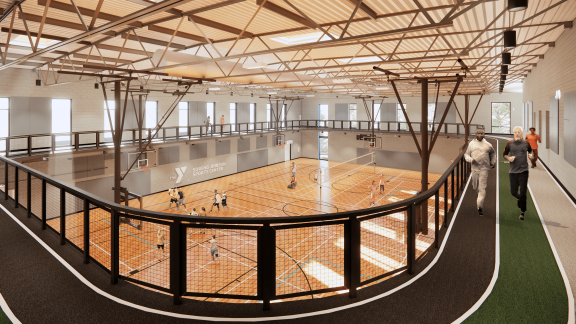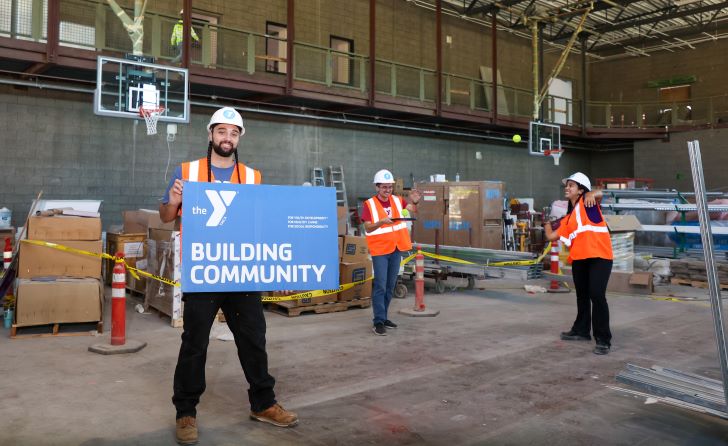 Traditional gym programming, such as basketball, will be offered as well as Itty Bitty sports, NinjaZone, youth sports games, youth sports clinics, adult and youth pickleball, family nights, tween events, teen programs, late night hoops, summer camps, and school break camps. It will act as the central location for teaching kids good sportsmanship, teamwork and overcoming adversity. Adults will expand their abilities with opportunities to learn new sport skills or hone their ones from high school!
---
Indoor Track
At the heart of TrackTown USA, the Y's second-story Indoor Track features an open design that allows for a direct view of the games and activities in the gymnasium below. Members can log their miles without interference from the weather.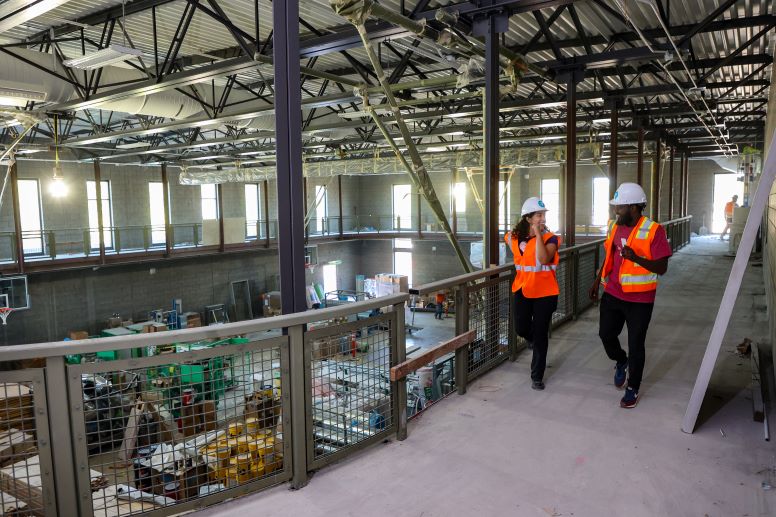 Features:
3 lanes

1 lap = 293 feet, 18 laps = 1 mile

A 2-layer rubber surface

The track direction will change daily, even and odd days
---
Cycle Studio
The Cycle Studio opens up an entirely new modality for group fitness. The flexible design allows bikes to transition as part of the 'cardio deck' by members when classes are not in session or as an added cardio component for classes on the Spencer Terrace, our outdoor covered space (learn more about the terrace below!)
Features:
19 Indoor Cycles

Classes include beat-driven rides, teen cycle classes, themed specialties and more. We also look to bring specialty classes geared toward Parkinson's disease.
---
North Studio
A large open studio we will fill with our most popular and dynamic class formats. Classes include dance, low-impact aerobics, Les Mills programs and more!
Note: We will have class registrations to guarantee you a spot in class, and all remaining spots will be available for drop-in.
---
Movement Studio
We are excited to have this additional space to add programs that have been on our wish list! Tucked between our North Studio and our Yoga Studio, this space will offer a home for the expansion of our Healthy Living programs, such as those for cancer survivors, those managing arthritis and those preventing diabetes!
Note: There will be reservations for classes, but any unfilled spots will be open for drop-in. Some classes in the space may be a series that run for a dedicated amount of time.
Classes include:
LIVESTRONG® at the YMCA

Enhance®Fitness

Aikido

Small group training

TRX classes

Therapeutic aerial yoga

Youth /family classes

And more!
---
Yoga Studio
The meditative and comfortable design of the Yoga Studio allows individuals to relax their minds while they strengthen their bodies and stretch their muscles—ultimately improving their physical and mental well-being.
Note: There will be reservations for studio classes, but any unfilled spots will be open for drop-in.
Classes include:
Gentle yoga

Hatha yoga

Flow yoga

Yin yoga

Pilates

M.E.L.T.

Chair yoga

Family yoga
---
Spencer Terrace
This second-floor covered, open-air terrace not only offers incredible views of Spencer Butte and the surrounding parks and open space, but also provides an additional flexible space to meet changing fitness needs—everything from sunrise yoga or stretching activity to instructor-led functional training. The terrace will be a mix of scheduled programs and open times.
Note: The equipment for HIIT-style programs will be used for classes and then removed for an open terrace area.
---
Personal Training Assessment Office
This office offers a designated space to meet with a Y Wellness Staff to discuss personal fitness plans or Personal Training opportunities in a private space with direct access to the Wellness Center. Members can also access an InBody body composition scan.
---
DESIGNED FOR YOUR KIDS​
---
PlayZone and KidZone (Drop-In Child Care)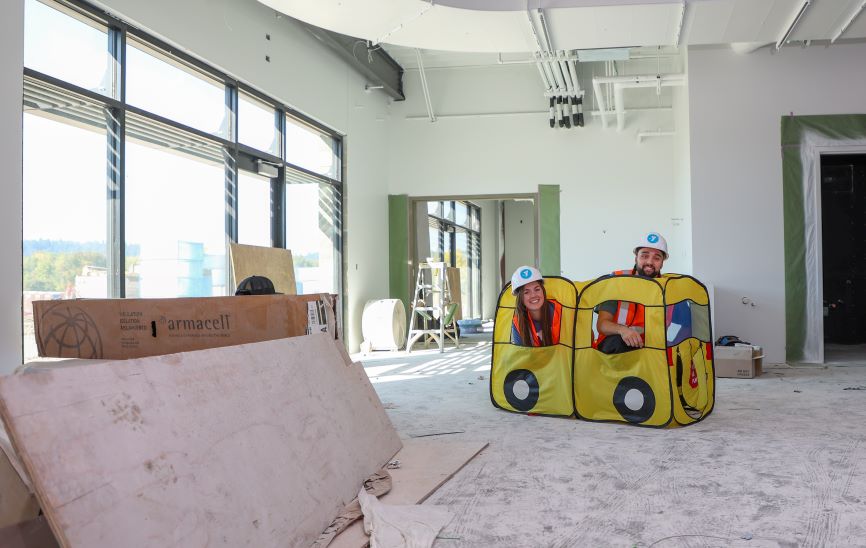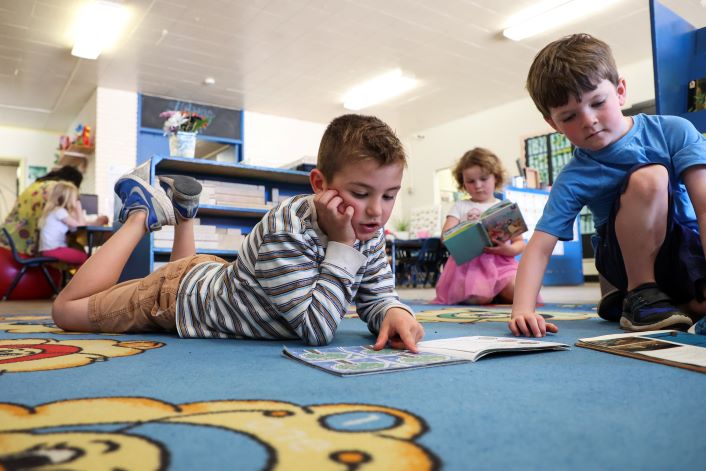 Located near the main entrance of the Y, the drop-in child care program provides age-appropriate, designated spaces that are easily accessible for families seeking quality, safe child care while they attend a class or work out for their own health and well-being. These two spaces are adjacent to an outdoor play area and are connected ensuring a long-term vision of flexibility within our programming for youth development.
PlayZone: For ages 0-4 to move their bodies, explore, and engage with skilled, nurturing youth development staff.
KidZone: For ages 5-10 to get creative, explore, and engage with skilled, nurturing youth development staff.
Note: KidZone features a custom-built Pacific Northwest mountain/lookout fire tower scene
---
Creation Station
This inviting room sparks creativity, passion and imagination as the high-tech maker spaces and cutting-edge STEAM activities provide the opportunity for learning, tinkering and exploring. Programming will be set for all ages: families, seniors and youth, throughout the day and into the evening.
---
Corner Hut
The teen room is host to everything fun for pre-teens and teenagers! This welcoming, comfortable space will be the go-to place for afterschool. It will be set up for homework help, specialty clubs and e-sports.
---
WANT TO LEARN MORE?
Read about our vision for a new era in our Y's history.
---