Diversity, Inclusion & Global Engagement at our Y
The Eugene Family YMCA is a diverse organization of people joined together by a shared commitment to ensure that everyone has the opportunity to learn, grow, and thrive. Cause-driven YMCAs are led by staff and volunteers who intentionally and continuously strive to promote an inclusive organizational culture that values all dimensions of diversity, strengthens inclusion, and builds global community in the U.S. and abroad. In short, we are committed to ensuring equity and justice, and actively promoting a culture of equity free from bias and injustice. We strive to achieve equal access, resolve inequities and remove institutional barriers that limit the ability of all people to develop their full potential.
We are on a journey to become an anti-racist, multicultural organization that values human diversity in all its forms and actively opposes racism by connecting and educating people and mobilizing community action. We firmly assert that Black Lives Matter.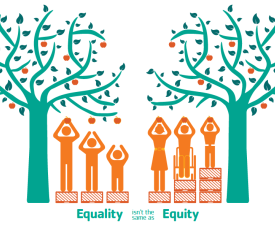 Stop Racism, Hate Crimes, and Xenophobia
The Y's National Asian Pacific Islander Leadership Network (APILN) stands against hate, racism, xenophobia in all its forms. Specifically, we condemn the increase of hate crimes being perpetrated in Asian Pacific Islander (API) communities across the nation.
The surge in hate and violence against Asian Pacific Islander's over the last few weeks and the last year, have been horrifying. Major news outlets have failed to adequately report these numerous instances. Over the past several weeks we have seen:
An 84-year-old Thai American, in San Francisco, died from injuries after he was pushed to the sidewalk.
A 64-year old Vietnamese American woman, in San Jose, was robbed of $1,000 in cash which she had just withdrawn for Lunar New Year.
A 61-year old Filipino American, in New York, was slashed in the face during a subway confrontation.
A 91-year-old man was shoved to the ground, in the Oakland Chinatown, by an assailant who is believed to have thrown two other elderly Asians to the ground. These attacks in Oakland are part of more than 20 robberies and assaults reported to Chinatown community leaders ahead of the Lunar New Year.
A 19-year-old Chinese adoptee Christian Hall was experiencing a mental health crisis, in Philadelphia, when video shows he was shot and killed by a state police officer, while his hands were raised.
These hateful, racist attacks perpetrated against Asian Pacific Islanders are happening daily and we have seen an increase over the past year – with 2,808 hate crimes against API Communities reported by the Stop AAPI Hate reporting center in 2020 alone.
We can be part of the solution, individually and collectively. We need to stand up and speak out for equity and justice. This is a pressing community need, and the Y always has responded to pressing community needs. We must all fight back against racism, hate, xenophobia, and bigotry in all its forms.
WHAT YOU CAN DO:
External Bystander Intervention Trainings
Bystander Intervention to Address Anti-Asian/American and Xenophobic Harassment: In partnership with asian americans advancing justice | aajc. This one-hour, interactive training will start by talking about the types of disrespect that asian and asian american folks are facing right now — from microaggressions to violence. You'll learn what to look for and how to prioritize your own safety while intervening. Sign up for FREE training and learn more.
FURTHER READING:
Article: How the Model Minority Myth of Asian Americans Hurts Us All
A Different Asian American Timeline
Article: Black and Asian Solidarity in American History