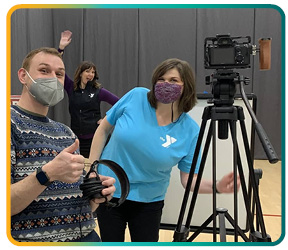 A charity bike ride for cancer research that overnighted at your Y in 2019 has resulted in a series of professionally produced videos for those who have undergone cancer treatment.
The bikers, students from the University of Texas at Austin, rode 4000 miles from Austin to Anchorage, Alaska, to raise awareness and money for cancer research. Dubbed the Texas 4000, the event is the longest annual charity bike ride in the world.
Their stop in Eugene inspired the group to invite the Y to apply for a grant, initially to support an expansion of the LIVESTRONG® at the YMCA program, our 12-week evidence-based exercise program to help survivors improve their strength and physical fitness, diminish the severity of therapy side effects, develop supportive relationships and improve their quality of life.
The LIVESTRONG at the YMCA program carries a waitlist of as many as 40 people. The group remains small due to facility space restrictions—a total of 12 people for each 12-week session to offer individualized attention based on specific cancer-related conditions and to allow the group to develop the relationships necessary to combat depression and anxiety.
COVID-19 derailed the entire LIVESTRONG at the YMCA program—even with masks, physical distance and sanitization, people undergoing or having just completed cancer treatment needed to isolate to protect themselves.
Read the rest of this article and all of the enews to learn about new group exercise classes, basketball hoop reservations and more!