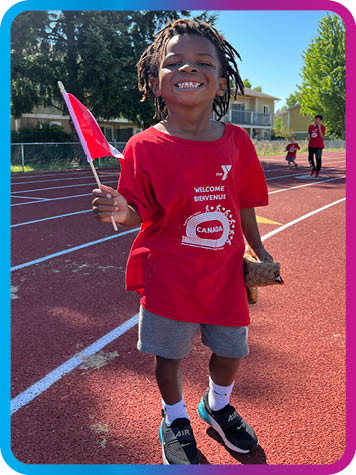 The return to typical summer camp after COVID was as joyful as expected! Not only did hundreds of summer campers spend their days outside learning camp games and songs, building their muscles in the pool and the gym, growing their social skills by making friends and building relationships with camp counselors, but they also made history with the World Wide Welcome for the World Athletics Championship.
All campers got involved in the running themselves, tracking a mile (or more!) around the track at South Eugene High School during the week leading up to the start of the championships. The Y was one of several youth groups in Eugene to be paired with another country. Y campers welcomed Team Canada and their 59 athletes!
Other summer highlights include: field trips to BRING recycling, Fairmount Park, Amazon Pool, Willamette Fish Hatchery, McKenzie River and Dorris Ranch, making music and building musical instruments, and special dress-up days (like tie-dye and crazy socks days!)
Y staff love ensuring that summer campers make memories that will last a lifetime!
Progress on the new Y

Upcoming closures

Hiring in Youth Development

Cottage Grove Summer Camp

Lunch & Learn with Yaakov

Multi-Sport Camp

Bushnell Baseball Camp

Walk It Off with the Y

Eugene Pride

Hiring LIFEGUARDS

Donate to the Little Free Pantry

Y in the news