EUGENE FAMILY YMCA ANNOUNCES NAME OF NEW CAMPUS: DON STATHOS CAMPUS, 600 E. 24TH AVE.
Anonymous donor honors late state legislator, who authored the renowned Bike Bill that launched a national movement of healthy habits, reduction of emissions
Eugene, Ore., Nov. 9, 2023 – The Eugene Family YMCA is entering a brand-new era in its 136-year history: The December opening of a state-of-the-art facility that will improve the lives of thousands more each year in Lane County. It marks the end of a decade-long capital campaign to raise more than $48 million and years of work to provide new programming for families, youth, young adults and seniors.
In honor of this transformative moment, the Y announces the official name of its new location: Eugene Family YMCA, the Don Stathos campus, 600 E. 24th Ave.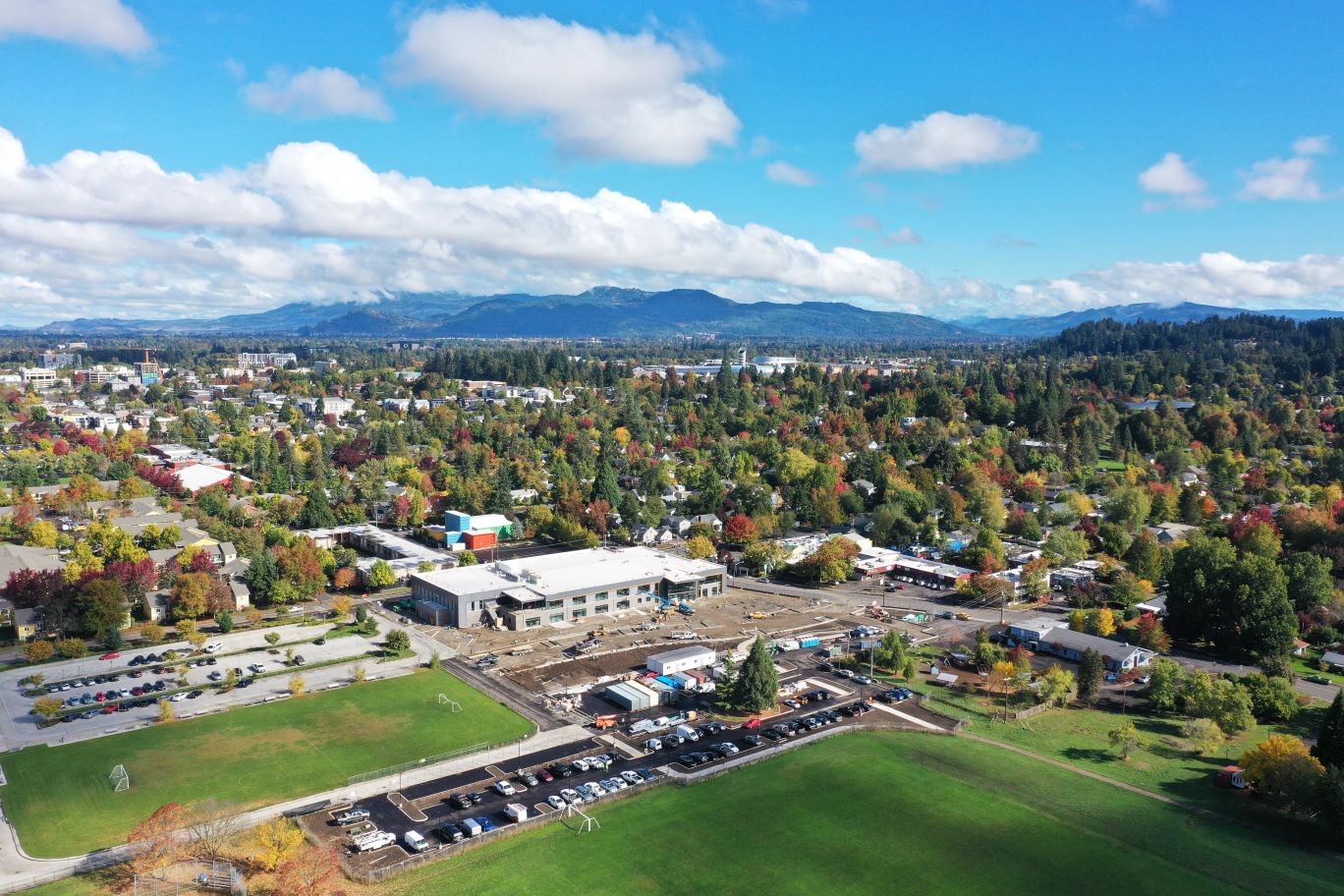 "The naming of our new campus location was inspired by a significant anonymous donor who was excited to celebrate a true Oregon legend, the late state representative Don Stathos," said Eugene Family YMCA CEO Brian Steffen. "Representative Stathos embodied values held deeply by the Y: innovation, sustainability, vision and compassion to meet the health and social needs of the community. Despite significant resistance and political sacrifice, Stathos held to his authentic, principled approach to enact legislation that he knew would endure for generations—the Bike Bill, which supports active transportation infrastructure."
The new YMCA located at the Don Stathos campus opens to the public with a ribbon-cutting ceremony and open house on Saturday, Dec. 16.
"As part of their donation, this donor to the Y's capital campaign wanted to honor Don's legacy of innovation and determination; and to celebrate his dream of creating a world where children and their families from any neighborhood can count on protected infrastructure to bike or walk safely," said YMCA Chief Development Officer Danielle Uhlhorn. "We are humbled by this donor's generosity and grateful that they helped each of us remember a legislator whose impact continues to resonate throughout Oregon and across the nation."
The Bike Bill, passed in 1971, continues the vision of inspiring healthy habits, safe family activities and reduction of vehicle carbon emissions by directing one percent of highway fund dollars to active transportation infrastructure, such as multi-use paths.
The new Y is strategically located along a very popular multi-use path: the Amazon bike path.
"The Y plans to take advantage of our premiere spot along the Amazon paths with outdoor walking and running groups, adventures with our summer campers and bike teachings with collaborators such as Cascadia Mobility and Safe Routes to School," said Kari Porter, YMCA Senior Director of Member Experience. "We are so grateful to be set along a community park great for families teaching children to learn to ride a bike or taking a safe recreational ride to the Y!"
In addition to the Don Stathos campus, the Eugene Family YMCA will continue to operate its Tennis Center campus at its current location, 2121 Patterson St. The last day of operations at the existing YMCA at 2055 Patterson Street will be Thursday, Nov. 30. It will be deconstructed in the spring of 2024. Future plans for the land will be determined by the YMCA's Board of Directors.
The community is invited to the Saturday, Dec. 16, ribbon cutting at 10 a.m. and open house until 3 p.m. The Y's first day of operations is Monday, Dec. 18, from 7 a.m. to 7 p.m.
"We want to extend a heartfelt invitation to our ribbon cutting for our entire community," said YMCA Board President Joe Carmichael. "This facility was built with the generosity of visionary philanthropists and created to improve the lives of everyone in our community for the next 100 years. We're excited to present to the community their new YMCA on behalf of all of those who made this dream a reality."
The new 75,000-square-foot Y facility is designed to serve thousands more in the decades to come, as well as eliminate inefficient or unusable spaces. It will feature:
Engaging Youth Spaces: Our youth wing will provide four large youth-focused rooms with significantly expanded drop-in childcare, a maker space, and a world-class environment for fostering the imaginations of children of all ages. Our youth wing features engaging, low- and high-tech equipment that will keep our youngest members happy, moving, learning and growing.
Community Gathering Spaces: Spacious and inviting gathering areas to socialize, relax and connect with fellow members—we can't wait to see the magic of our Y community come alive here.
An Enhanced Aquatics Center: An upgraded aquatics center with a 6-lane lap pool, a larger and deeper warm-water pool, a splash pad for toddlers, a co-ed sauna and a larger hot tub.
An Enhanced Gymnasium: The game of basketball was invented by a YMCA employee (James Naismith) in 1891, so of course we will offer an incredible basketball venue. The new gym will also have an indoor track, volleyball (another YMCA invention in 1895), pickleball, youth programming and inflatable equipment for events.
An Expanded Fitness Center: The latest cardio and strength equipment in a space almost 5 times larger than in the current facility.
Dedicated Group Exercise Studios: Your favorite group exercise classes plus many new ones in one of 4 new studio spaces (plus an outdoor terrace) with floor-to-ceiling views. Imagine indoor cycling, group strength training, yoga, TRX, dance and so many more types of classes!
The Y continues to raise the final dollars: There is less than $1 million left to be raised to complete the project debt-free!
Opening debt-free means the Y can immediately reinvest in programs and services that improve the community's health and well-being. The final push includes support of 3 to 4 murals by local artists, expanded technology in youth spaces, and financial assistance for when we open to ensure ALL have access to the new Y.
Those interested in donating should click below.
---
Media Contact:
Beth Casper
Marketing & Communications Director
Eugene Family YMCA
541.686.9622 ext. 240
beth@eugeneymca.org
---
About the Eugene Family YMCA
The Eugene Family YMCA is one of the region's leading nonprofits strengthening communities through youth development, healthy living and social responsibility. Each year across Lane County, the Y engages more than 18,000 people regardless of age, gender, income or background—to nurture the potential of children, teens and seniors; improve health and well-being; and provide opportunities to give back and support neighbors. In 2022, the Eugene Family YMCA awarded $492,451 in financial assistance. The YMCA has been serving the Eugene-area since 1887.
---