EUGENE YMCA WINS PRESTIGIOUS COMMUNICATIONS AWARD FROM NORTH AMERICAN YMCA DEVELOPMENT ORGANIZATION
Award issued at NAYDO's annual conference in April, this year in Houston
Eugene, Ore., May 4, 2023 – The Eugene Family YMCA is proud to announce that it has been honored with a Communications Award from the North American YMCA Development Organization (NAYDO) for developing the best overall strategic campaign for the Community Phase of its Capital Campaign.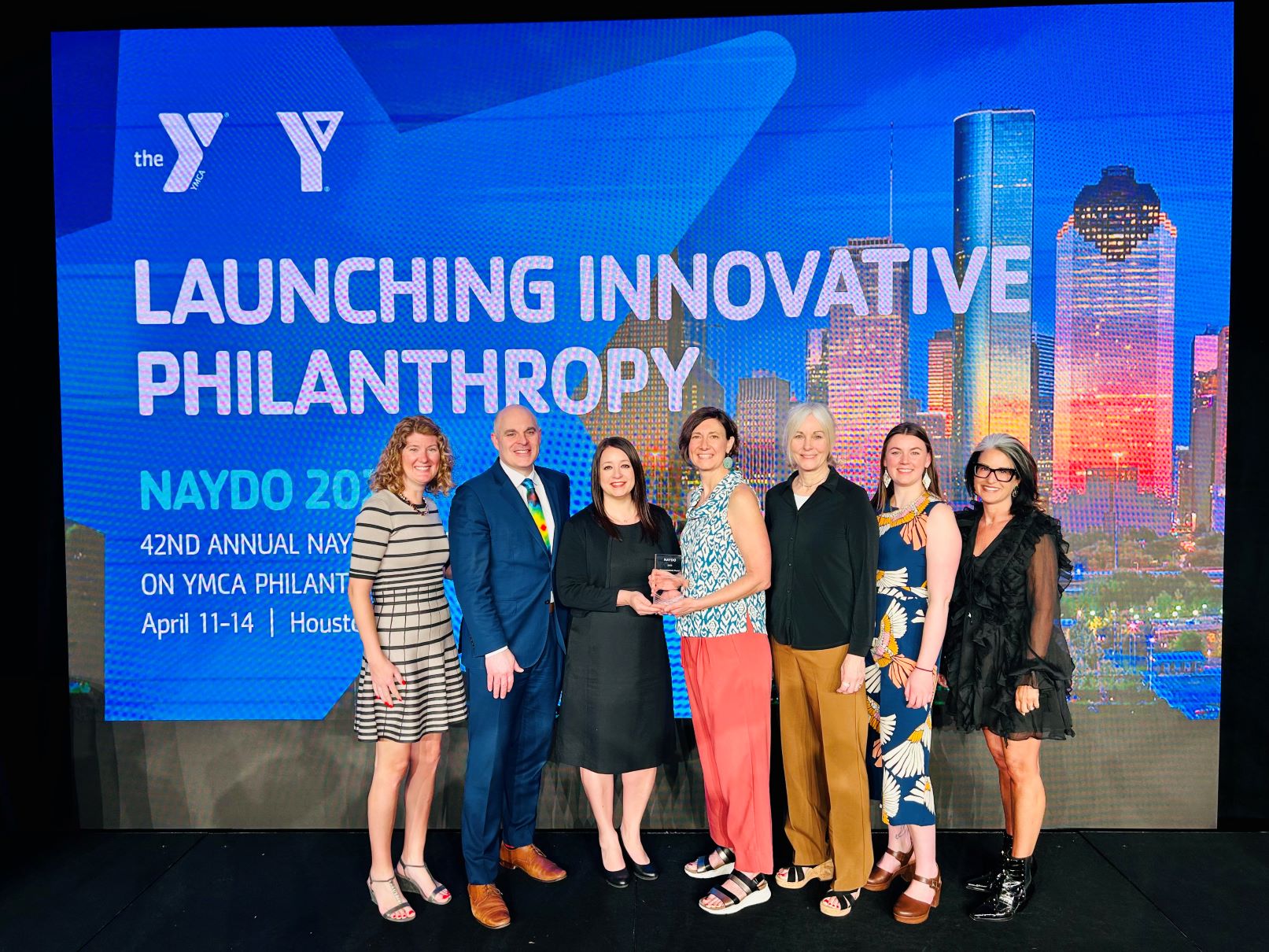 The NAYDO Communications Award recognizes YMCA organizations that demonstrate exceptional creativity and effectiveness in communicating with their communities. The Eugene Family YMCA was recognized for its innovative and engaging outreach efforts, which helped to build stronger relationships with community members and increase awareness of the organization's Capital Campaign.
"We are thrilled to receive this recognition from NAYDO," said Brian Steffen, CEO of the Eugene Family YMCA. "Our team has worked tirelessly to reach out to our community and share the vision for the new Y and how we would be able to achieve that vision. This award is a testament to the impact of our outreach efforts."
Generous donors and visionary philanthropists completed the $5 million Community Phase in a mere 10 months, helping to ensure that construction would be completed on time for opening in December 2023.
"This submission was like a campaign in a box—it had photos, stories and you could see the intentionality to ensure it was diverse. Nothing was missing," said Christina Harley, NAYDO's chair of the Communications Awards Committee. "This capital campaign went through a journey … right through the trials and turbulence of the pandemic to an ending campaign goal of $5 million dollars. The submission showed their ability to pivot, they were incredibly clear about their needs and truly showcased communication excellence."
The Eugene Y's outreach initiatives during the $5 million Community Phase of its Capital Campaign included a variety of strategies, such as social media campaigns, newsletters, targeted advertising and email communications. By engaging with community members through these channels, the organization was able to increase awareness and communicate the urgency of completing the Capital Campaign for a new Y—critical to its mission of improving the health and wellness of more families, youth and seniors in the future.
"This award is a dream come true," said Chief Development Officer Danielle Uhlhorn. "To be honored for our work communicating our mission is the ultimate honor after decades of behind-the-scenes work to make the new Y a reality."
The NAYDO Communications Award is a prestigious honor within the YMCA movement, and one bestowed on only a handful of YMCAs each year. This year, the YMCA of South Hampton Roads in North Carolina and the YMCA of Greater Houston in Texas also won Best Overall Campaign Excellence Awards.
For more information about the Eugene Family YMCA and its Capital Campaign, please click here.
---
About the Eugene Family YMCA
The Eugene Family YMCA is one of the region's leading nonprofits strengthening communities through youth development, healthy living and social responsibility. Each year across Lane County, the Y engages more than 18,000 people regardless of age, gender, income or background—to nurture the potential of children, teens and seniors; improve health and well-being; and provide opportunities to give back and support neighbors. In 2022, the Eugene Family YMCA awarded $492,451 in financial assistance. The YMCA has been serving the Eugene-area since 1887.