The Time is Now!
The need to build THE NEW Y IS AS URGENT AS EVER. Economic, health care and educational crises grow daily, and the new Y will be part of the solution: Expanding our umbrella of proven preventative health and wellness programming, growing our child care footprint in Lane County, and a financial SUPPORT NETWORK THAT SERVES EVERYONE.
This NEW FLAGSHIP FACILITY will serve as an organization-wide headquarters and will replace the current facility (with the exception of the current Tennis Center). The new facility will provide a home for growing membership, and it will house the operations and offices for the programs throughout Lane County.
A substantial portion of the new Y will offer PUBLIC SPACE AVAILABLE TO THE ENTIRE COMMUNITY to socialize, watch their children participate in programs and exchange ideas.
The Vision
Our vision for the next century of growth starts with the construction of a modern facility—one with the capacity to serve our community for many years to come.
A fully ADA-accessible, flexible floor plan that can change as needed
Activity centers for academic tutoring, maker spaces and learning labs
A teaching kitchen for families and individuals to gain nutritional knowledge
An expanded Health & Wellness Center that includes an indoor track and spin cycle room
An expanded Aquatics Center to teach youth safety skills, support rehabilitation and preventative care, and a splash pad for introducing water to toddlers
The addition of critical programs like Parkinson's and Alzheimer's support, Blood Pressure Awareness and Falls Prevention
The highest level of seismic standards so the building can be re-purposed as a shelter after a devastating earthquake
The new, open facility is designed to give the Y the ability to significantly increase the impact of its youth, health and wellness programs in the decades to come, as well as eliminate inefficient or unusable spaces.
VIEW EXTERIOR ARCHITECTURAL RENDERINGS VIEW INTERIOR ARCHITECTURAL RENDERINGS
Project Cost
A $42 MILLION CAPITAL CAMPAIGN
$36 million towards design and construction costs
$2.85 million for land acquisition at 24th and Hilyard
$2.27 million to cover management and administration costs
Join us in the campaign for a new Y!
Your support is critical for the completion of this campaign. Every size and type of donation counts! The new facility will be a cornerstone to help thousands of individuals find health and wellness in Lane County. Help your community by making a donation today!
HERE'S HOW YOU CAN HELP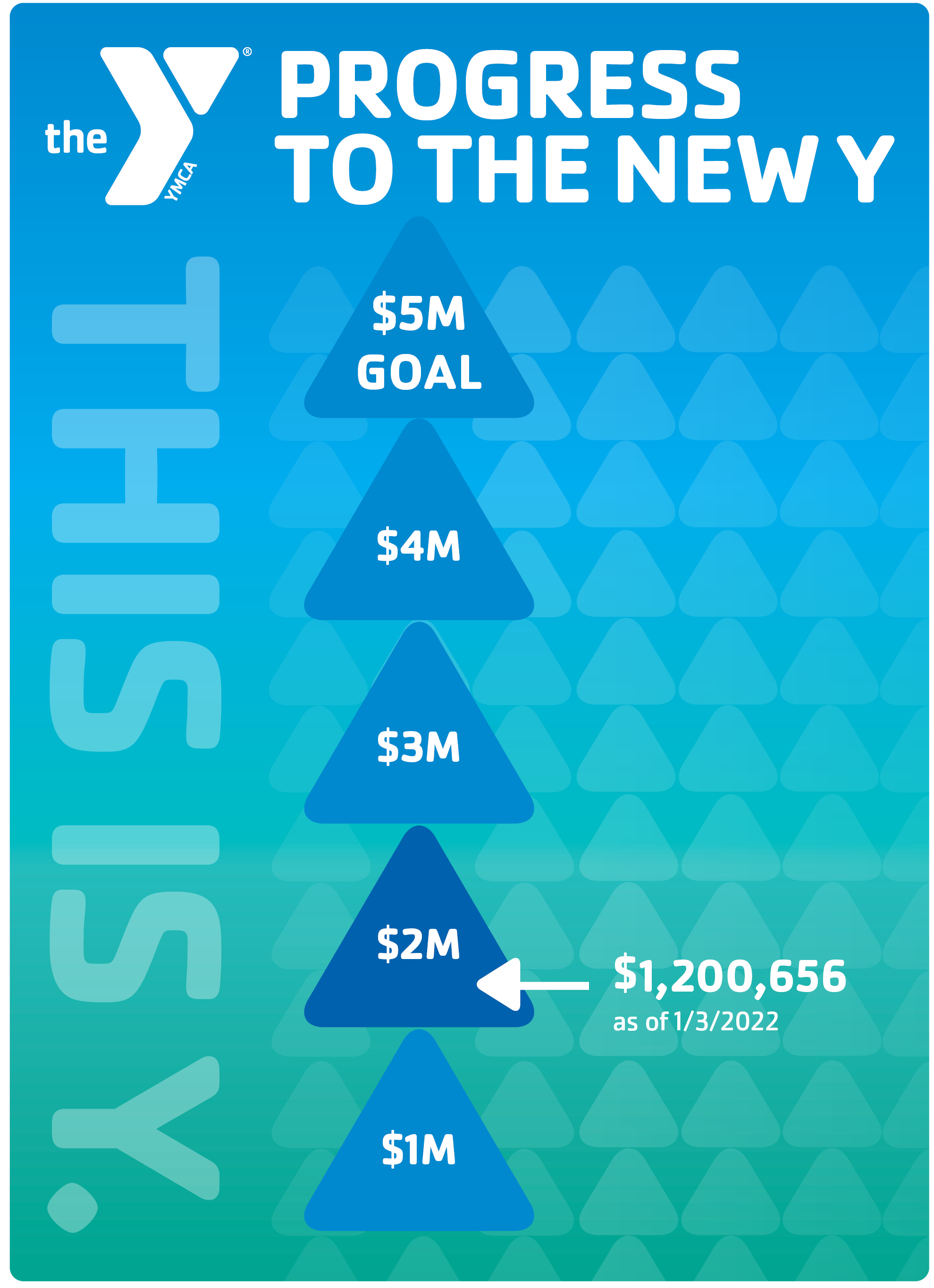 Make a one-time or monthly recurring donation by clicking the donate button below
MAKE A DONATION
Donations in the form of a check can be made payable to the Eugene Family YMCA, 2055 Patterson St., Eugene, OR 97405. Please include "New Y Campaign" on the memo line
Consider sharing your Y story through a letter-writing campaign to friends, family and colleagues inviting, them to join you in the campaign for a new Y
Donate appreciated stock
Expand your impact by considering a multi-year pledge:

$10/month for three years = $360

$25/month for three years = $900

$50/month for three years = $1,800

$100/month for three years = $3,600

$5,000/year for three years = $15,000
Individual Pledge Form Corporate Pledge Form​
Launch a Facebook fundraiser for Giving Tuesday on November 30, for a birthday or other special occasion

​

Register for Amazon Smile and have a percentage of qualified Amazon purchases donated to the Y
If a gift to the new Y is not possible in the near future, we hope you'll consider a legacy gift through a bequest or trust to support the sustainability of the new Y for generations to come.
FOR MORE GIVING INFORMATION AND OPPORTUNITIES:
Danielle Uhlhorn, Chief Development Officer
541.686.9622; 247
danielle@eugeneymca.org
The Eugene Family YMCA is 501c3 non-profit. EIN 93-0500679