OCCU Foundation Partners for New Y and Financial Literacy
Eugene, Ore., April 14, 2022 —
The OCCU Foundation's $100,000 donation to the This is Y Capital Campaign for a New Y names the 1,150-square-foot Youth Learning Lab and offers financial literacy education to youth and their families.
"We are thrilled to contribute to an organization that supports so many people in our community at all stages of their lives," said Ron Neumann, OCCU Foundation Board Chair and OCCU President & CEO. "We are excited to partner with the YMCA to expand young people's understanding of finances, while supporting their work to create healthy, thriving communities."
The donation means that OCCU Foundation will name the 1,150-square-foot Youth Learning Lab and join the Eugene Family YMCA as a Financial Literacy Partner.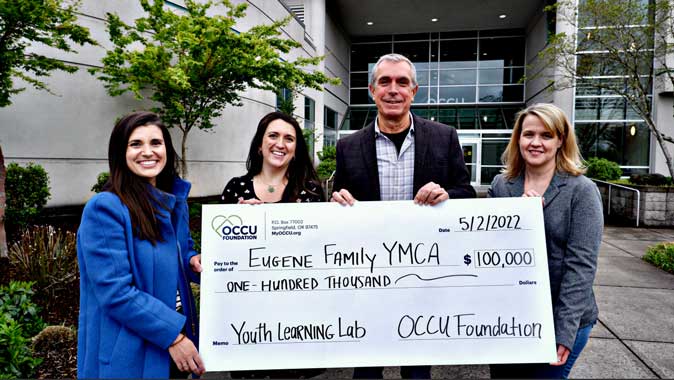 "Not only is it vital for our youth to be introduced to financial literacy at an early age, but studies also show that financial illiteracy negatively impacts the mental health of many adults," said Y Chief Development Officer Danielle Uhlhorn. "This partnership creates opportunities to address this issue by incorporating learning activities in our various youth development programs and in casual "Lunch and Learn" sessions developed for different age groups."
The OCCU Foundation has granted more than $2 million since 2018 to projects that advance learning, improve well-being and support communities.
"We are beyond grateful for the vision of the OCCU Foundation," said Eugene Family YMCA CEO Brian Steffen. "We are building this Y to broaden the scope of our programs and services, particularly for youth. With OCCU Foundation's partnership, we can address the significant gaps in understanding personal finances for our youth and critical decision making throughout a lifetime."
The new Y is scheduled to break ground in July 2022, as long as the $5 million community phase fundraising effort is completed. The facility is set to open in December 2023 and is designed to serve thousands more in the decades to come, as well as eliminate inefficient or unusable spaces. It will feature:
● A fully ADA-accessible, flexible floor plan that can change as needed
● Activity centers for academic tutoring, maker spaces and learning labs
● A teaching kitchen for families and individuals to gain nutritional knowledge
● An expanded Health & Wellness Center that includes an indoor track and cycle room
● An expanded Aquatics Center to teach youth safety skills, support rehabilitation and preventative care, and a splash pad for introducing water to toddlers
● The addition of critical programs like Parkinson's and Alzheimer's support, and Falls Prevention
● The highest level of seismic standards so the building can be re-purposed as a shelter after a devastating earthquake
So far, generous donors to the $5 million community phase of the Capital Campaign have raised more than $1.9 million! Those who want to be a part of the Campaign for a New Y and haven't already made a contribution are invited to donate HERE.
Media inquires, please contact:
Eugene Family YMCA
Beth Casper
503-302-8776 (mobile)
beth@eugeneymca.org
###
---
About the Eugene Family YMCA
The Eugene Family YMCA is one of the region's leading nonprofits strengthening communities through youth development, healthy living and social responsibility. Each year across Lane County, the Y engages more than 18,000 people regardless of age, gender, income or background—to nurture the potential of children, teens and seniors; improve health and well-being; and provide opportunities to give back and support neighbors. In 2020, the Eugene Family YMCA awarded $413,506 in financial assistance. The YMCA has been serving the Eugene-area since 1887.
About OCCU Foundation
OCCU Foundation is the philanthropic arm of Oregon Community Credit Union (OCCU). Since its start, OCCU Foundation has granted more than $2 million to help build happier and healthier communities by giving generously to projects that advance learning, improve well-being and support communities. The foundation is a nonprofit 501(c)(3) corporation funded by OCCU, businesses, families and individuals.
OCCU Foundation was founded in 2018 to further extend the credit union's vision to Enrich Lives. Learn more at MyOCCU.org/Foundation.