Here at the Y, we know that staying active and reducing stress is sometimes easier said than done when you've been diagnosed with cancer. Whether you are on our LIVESTRONG® at the YMCA waitlist, immunocompromised or struggling to balance work and family life, our new RECLAIM: Cancer Exercise Video Series is here for you to use from the comfort and safety of your own home, on your own schedule. These videos draw from our specially trained instructors' experience working with survivors over the last five years and include proven post-treatment exercise and self-care content. We would like to thank Texas 4000 and the Turell Group for giving us this opportunity to serve more people in our community in new and meaningful ways. The series includes:
Warm-up and Cool-down

Balance, Stretch and Range-of-Motion Workout

3 Guided Meditations with Nancy Hopps

Cardio and Dance Workouts

Two Full Body Strength Workouts (resistance tubes & weights)

Two Lymphedema Exercise Videos (upper & lower body)
RECLAIM: Cancer Exercise Video Series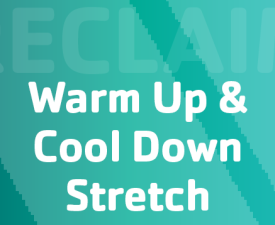 Warm Up & Cool Down Stretch
This video series was made possible with the generous support of Texas 4000, Turell Group, and Nancy Hopps.